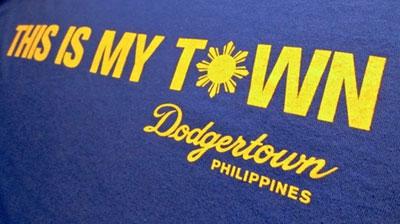 The official My Town Philippines souvenir shirt from the Los Angeles Dodgers (Photo taken by Jon Bareng which I took from him off Facebook)
On Tuesday, August 18th, the Los Angeles Dodgers put an end to the St. Louis Cardinals' 5-game winning streak with a 7 to 3 victory.  Over 49,000 baseball fans were in attendance at Dodger stadium that night to witness an action filled game complete with overpriced food and liquor. 
For the Filipinos that went to the game that night, the evening's story wasn't just about a night at the ballpark.  The Dodgers marked that specific evening as Filipino Heritage Night.  To celebrate this special night, the right field reserve section was decorated to say My Town Philippines and the 800 people that got tickets for that special area were given access to all you can eat concessions, a special Filipino food menu and a souvenir t-shirt that said "This Is My Town, Dodgertown Philippines".
by A Very Opinionated Pinoy Dude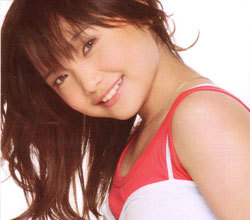 (Disclaimer: Here at Pinoylife, we may be a bit L.A.-biased when it comes to pro sports teams, so I'm afraid you're gonna have to deal with it.)
I got a chance to ditch work on Monday and go to Dodger Stadium to see the Dodgers home opener vs. the hated Frisco Giants. I know a lot of Frisco fans have cum in their pants (pun intended) lately due to a certain half-Pinoy pitcher, but us Dodger fans have our perks too. For Opening Day the sellout record crowd of 57,099 were treated to none other than 16-year old singing sensation (wait, wasn't she the 15-year old singing sensation last year?) Charice Pempengco, singing the "Star-Spangled Banner" as the big-ass American flag was unfurled.
There was also an international theme as flags of 30 nations (including the Philippine flag) of which the Dodgers have had some relationship with were carried into the infield.
Missed it? My infamous video camera caught the performance!
Okay yeah, she's not even a U.S. citizen, but you gotta admit, she can rock the anthem better than most citizens could.  Speaking of which, she's spent an awful lot of time here in the States lately. And one of the songs played before the game was AC/DC's "T.N.T." Coincidence?
 
After her performance, a B2-stealth bomber flew overhead, hundreds of doves were released, Vin Scully threw out the ceremonial first pitch to open up a game which had Dodger outfielder Andrew Either hit two homeruns, pitcher Chad Billingsley throw 11 strikeouts, and new infielder Orlando Hudson hit for the cycle with a homerun, a single, a double and a triple all in the same game – a rare feat not accomplished since 1970!
Oh yeah, the Dodgers won 11-1. Sorry Frisco fans. Tsk, tsk.
At this rate, we should have Charice sing the national anthem every day.