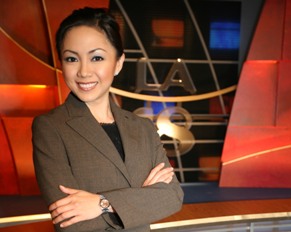 Kababayan L.A. host, Janelle So
Greetings PinoyLifers.  A few weeks ago, I was asked to appear on a show called Kababayan L.A. by its host, the lovely Janelle So.  She wanted to do a segment on blogging and asked me to be on the show after seeing some of the fun things I put on this site. 
The show aired on September 25, 2008 but there is a bit of backstory to some of the antics I pulled during the appearance.
Charice Pempengco keeps impressing the masses and now she's gotten the attention of French Canada's gift to the world – Celine Dion. 
On September 9, 2008, daytime talkshow host Oprah Winfrey had the young Pinay perform on her show only to surprise Charice with a video greeting from Celine Dion where she invited Charice to sing a duet at the Celine Dion concert in Madison Square Garden.  As much as Celine's music immediately kills any sex drive and alcoholic buzz in my system, that is an impressive accomplishment for young Charice Pempengco.
If you don't know her name yet, you better learn it fast because she is on her way to be the next big thing.
The Most Talented Girl in the World : Teen Singing Sensation - Oprah.com (damn, I can't belive I'm linking something to Oprah.com)
www.charicepempengco.com | Charice Pempengco Official Site
I'm not a fan of kicking a dead horse when it is down.  It's just a mean thing to do. 
HOWEVER, there was one question people kept asking me when I was at FPAC, "Do you know how Pinoyfest went?"  
So for all of you that were curious, someone that goes by the name "A Very Opinionated Pinoy Dude" took one for the team and went to Pinoyfest with a video camera. 
I just have a few more things to say and I promise to stop with the Pinoyfest stuff.
I know, I know. It's just a local Los Angeles show on KSCI channel 18 on the UHF dial. But man, Janelle So really started throwin' it down on two of the rocket scientists behind Pinoyfest on the show Kababayan L.A. Check around the 3 minute mark when she mentions this uber Pinoy Pop Culture blog.
Thanks for the plug Janelle! See you at FPAC!
Comedian Ron Josol from Toronto, Canada came to visit the Pinoylife headquarters in Los Angeles (aka Moonie's house) and took some time between watching MMA and a smoke break to do the first ever audio interview posted on Pinoylife.com!  Get to know this Pinoy comic as he talks about his influences, his car accident, making longanisa, and soda.
Ron Josol Interview: Part 1 of 3 
Read on for parts 2 and 3.
Room to Improv cast member, UC Irvine alumnus and future mega-star Earl Baylon was recently casted as, get this, a HAWAIIAN in two Round Table Pizza commercials.  I know, I know, a gig is a gig but man this is great! 
See Earl in the video below at the 0:32 second mark as a "Hawaiian" and at 1:35 as the "SUPER Hawaiian"
Earl, did you honestly think I wasn't gonna post this?!?!  Have you even been to Hawaii?